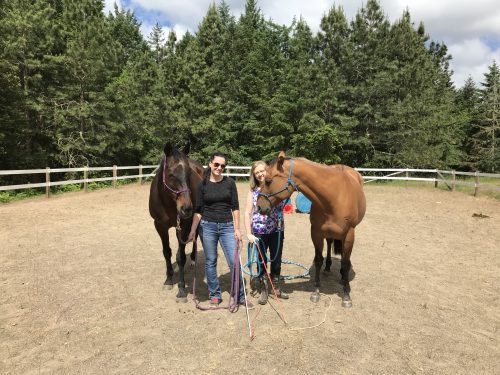 The horses at High Hope Haven are trained using natural horsemanship techniques. Because of this, they are eager to communicate with their handlers, reflecting the energy and attitudes the participants bring to the session. Classes at Haven are primarily action-based as the participants learn to read the horses' responses and modify their own energy and focus to create an optimal outcome. These learned skills are directly applicable to the participants' daily lives and interaction with humans.
The courses that are offered at High Hope Haven are:
ReStart
ReStart is an equine-assisted course that includes one-on-one sessions for 2 hours per day over 5 consecutive days. The sessions are action-based and designed to interrupt participants' usual responses to situations while being sensitive to their pace and needs. Positive engagement habits are rewarded with success in a real-time context with clear feedback from unbiased, sensitive, and expressive horses. This course focuses on improving skills in eight specific areas: assertiveness, perseverance, taking responsibility, empathy, calmness, planning, communication, and engagement.
Participation in the ReStart course requires a referral from a professional in social services, mental health, or education. We do participate in the ongoing research of this course through TheHorseCourse to determine its benefits. Therefore, we require the commitment of the referring professional to provide information on the participant's progress 2 months after attending ReStart.
ReFresh
ReFresh is designed to be a brief sample of a ReStart session. It is one equine-assisted session that is 1-2 hours long. It is intended as extra support for participants who have attended the ReStart course or for those participants who are nervous about committing to the ReStart course. ReFresh may also be provided to professionals who would like to experience what we do in the ReStart course.
Nonverbals
Nonverbals is a 3-hour workshop without horses for front-line professionals in social services, mental health and education. The workshop equips participants to use nonverbal strategies to better manage clients who shut down, blow up or disengage. These techniques will help participants ensure that their caseloads do not escalate to the point where they require intensive intervention.