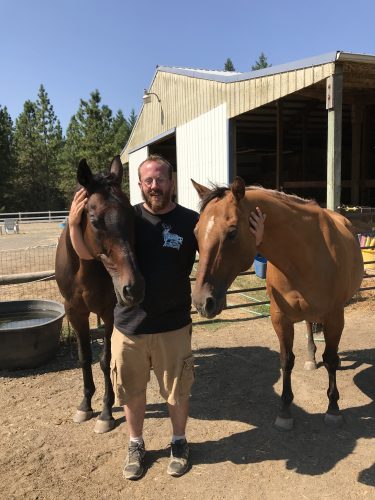 Pamela Kinion began inviting people to share her horses in 2012. Her goal was to reach those who struggled with fitting into "normal" life in order to encourage them and help them build confidence. She founded High Hope Haven in 2013 and continued to refine the program's goals and methods.
Shortly after beginning to offer horse sessions, Pamela learned about the tragic lives of sex trafficking victims and discovered that this took place in our community. She reached out to local organizations that rescued victims and also to organizations that helped individuals who were at risk for becoming victims in order to make a difference in their lives through time spent at High Hope Haven.
In 2018, Pamela traveled to Weymouth, UK to become a facilitator of a program there called TheHorseCourse, an evidence-based equine intervention program that also utilizes natural horsemanship. TheHorseCourse works with Bournemouth University to quantify the benefits of the program for participants who are unwilling or unable to make progress in conventional services. High Hope Haven is now the only facility in the United States that offers the program developed by TheHorseCourse. High Hope Haven continues to help victims of sex trafficking but our program has been expanded to help all individuals who are stuck in conventional talk-based therapy so that they can learn how to re-engage.